Paramus Spartans 2017 — 2018 Season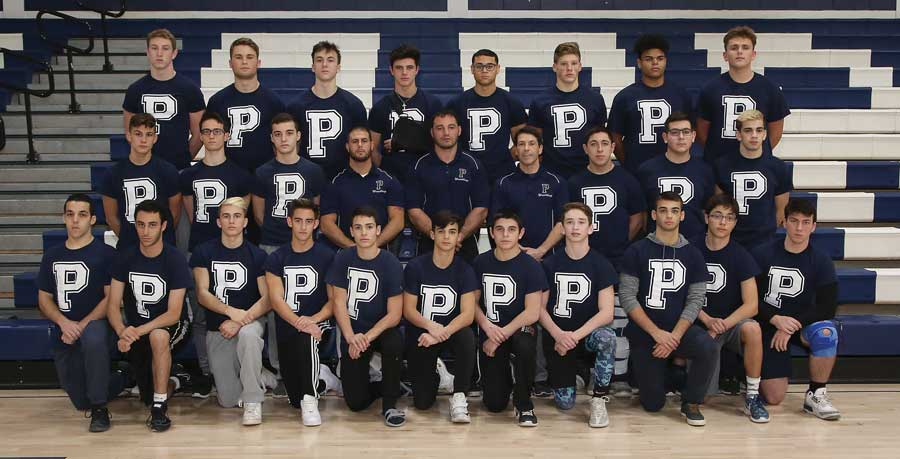 2017 — 2018 Schedule
Date of EventOpponentLocationTimeResultLeague
11/27/17Practice BeginsPHS3:30 PMAll Wrestlers
12/15-12/17Beast of the EastNewark DE
12/20/17St. Peter's PrepPHS6PM JV / 7PM VarsityParamus 10 - St. Peter's 52Varsity
12/22/17Wayne HillsPHS6PM JV/7PM VarsityParamus 52 - Wayne Hills 10Varsity
12/27/17Ridgefield Park TournamentRidgefield Park HSTBAJV
12/28/17 - 12/29/17BCCA TournamentHackensack HS10AM2nd - Thomas Casey - 113
2nd - Kyle Kaiser - 120
3rd - Kyle Jacob - 160
8th - Robert Carmichael - 170
6th -Matt Tarabocchia - 195Varsity
1/3/18RidgewoodPHS6PM JV/7PM VarsityParamus 54 - Ridgewood 24Varsity
1/4/18ParsippanyParsippany HS6PM JV / 7PM VarsityParamus 35 - Parsippany 38Varsity
1/6/18Mt. Olive QuadMt. Olive HS10AMParamus 35 - Mt. Olive 38
Paramus 27 - West Morris 42
Paramus 13 - Southern 49
Varsity
1/10/18BergenfieldPHS6PM JV/7PM VarsityParamus 51 - Bergenfield 14Varsity
1/12/18Fair LawnFair Lawn HS6PM JV / 7PM VarsityParamus 15 - Fair Lawn 61Varsity
1/13/18 -1/14/18Sam Cali TournamentWest Orange10AMVarsity
1/17/18RamapoRamapo HS6PM JV/7PM VarsityParamus 51 - Ramapo 15Varsity
1/19/18Old TappanPHS6PM JV / 7PM VarsityParamus 39 - Old Tappan 31Varsity
1/24/18Indian HillsPHS6PM JV/7PM VarsityParamus 61 - Indian Hills 13Varsity
1/27/18Garfield QuadGarfield HS10AMParamus 60 - Ridgefield Pk. 21
Paramus 38 - Garfield 27
Paramus 64 - Leonia 15Varsity
1/31/18Northern HighlandsNorthern Highlands HS6PM JV / 7PM VarsityParamus 33 - NH 40Varsity
2/2/18HackensackPHS6PM JV / 7PM VarsityParamus 59 - Hackensack 20Varsity
2/3/18Hanover ParkPHS10AMParamus 15 - Hanover Park 50Varsity
2/3/18Freshman County TournamentBergenfield HSTBAVarsity
2/5/18Section TournamentPascack Valley7PMVarsity
2/7/18Section Semi or Saddle BrookTBD / PHSTBD / 6PM JV/7PM VarsityVarsity
2/9/18Section Final or H.HeightsPHSTBD / 6PM JV/7PM VarsityVarsity
2/17/18District 6 TournamentFair Lawn HS10 AMVarsity
2/21/18, 2/23/18-2/24/18Region 2 TournamentTBDTBDVarsity
3/2/18-3/4/18State TournamentBoardwalk Hall, Atlantic CityTBDVarsity
50 High School Seniors to Watch: Kyle Kaiser, Paramus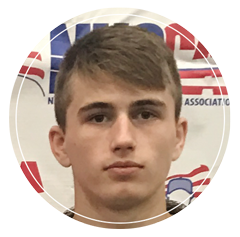 The past wrestling season was rolling along nice lyfor Kyle Kaiser. He was a county and district champion, a regional silver medalist and winner of a first-round match in the state tournament. Then, the championship dream was derailed.However, it took a returning state gold medalist to sidetrack Kaiser, who is about to enter his senior year at Paramus, once again in search of a medal. The returnee, Joe Manchio of Seneca, won that state bout, but it wasn't easy. Kaiser had attacked with the ferocity of a linebacker and Manchio barely escaped with an 8-6 decision."I wasn't really heart broken," the 113-pound Kaiser recalled recently. "I was a little ashamed, embarrassed that I let the community down. I haven't stopped wrestling since."
The grueling match likely took its toll on Manchio, who lost his next bout and barely managed to finish eighth.
Kaiser went on to win one wrestleback bout – for his 100th career win -- before being eliminated. It had to sting even more after his two teammates and close friends, Kyle Cochran and Brian Bonino, took second and third, respectively.
The trio are believed to be the first three teammates to win Bergen County titles the same year, which they accomplished in December. And now, Cochran is off to the University of Maryland and Bonino to Columbia. "I'm the lone wolf now," Kaiser said grimly. "We've been close friends since back [when I was] in second grade." It might be tempting to follow one of them next year, but Kaiser is open minded. "Whatever college fits me best," he said. "I want to study criminal justice." He long has had a front-row view of police work as his father, Robert Kaiser, is captain of the South Hackensack Police Department. "I want to help people, to give back, and protect people," Kaiser, 18, explained. As a youngster, Kaiser also played football, baseball and soccer until a self-evaluation turned him in the right direction.
"I grew later than most kids," he said. "I was too small and not strong enough for some of the sports. In wrestling, you go against kids your size." To prepare for his senior season, Kaiser works out diligently at Apex Wrestling in Mahwah. "I've been going to Apex since I was seven or eight, in second grade," he said. "There was something about wrestling, that I was [quickly] able to understand everything that was taught to me. And I placed in the [recreation] states every year when I was younger. "I do a lot of lifting. I don't work on any one move. I work on everything. I switch back and forth on the different positions."
Kaiser won back-to-back county championships after finishing fourth as a freshman. He has won two district titles and was a region champ as a sophomore.
"Kyle's best position is on top, where he turns people," said Paramus coach Chris Falato. "He's great with his legs and he's beaten a lot of top wrestlers that way in close matches. He's very composed and confident and finds a way to win." Kaiser plans to continue to compete at 113 pounds.
"I can go 120 if the coach needs me," he said. "Anything I can do to help the team."
What Kaiser also wants is to help himself to a state medal. He won't interrupt his daily workouts until he does.
6 Paramus Wrestlers Place in the Bergen County Coaches Holiday Tournament
6 Paramus Wrestlers placed in the Prestigious County Holiday Tournament.
Kyle Kaiser placed 2nd
in a hard fought bout losing 4-2 vs the 5th ranked wrestler in the Country.
Thomas Casey placed 2nd
going three full periods vs. last years County Champ.
Sophomore Kyle Jacob took home 3rd place
and was 1 point away from going to the finals.
Matthew Tarabocchia capped off the night by placing 6th
in his first County Tournament.
Freshmen Aaron Azeryov placed 6th and Robert Carmichael placed 8th
. As for the team the Spartans placed 7th overall.
Sam Cali Tournament Results
January 15, 2018
Kyle Kaiser placed 4th at the Sam Cali Tournament improving his record to 19-5. Sophomore Kyle Jacob placed 3rd improving his record to 20-4
. Jacob (pictured below) went 7-1 and Kaiser 6-2 over the two day event attended by some of the toughest teams from New Jersey,Pennsylvania, New York, Rhode Island, & Massachusetts.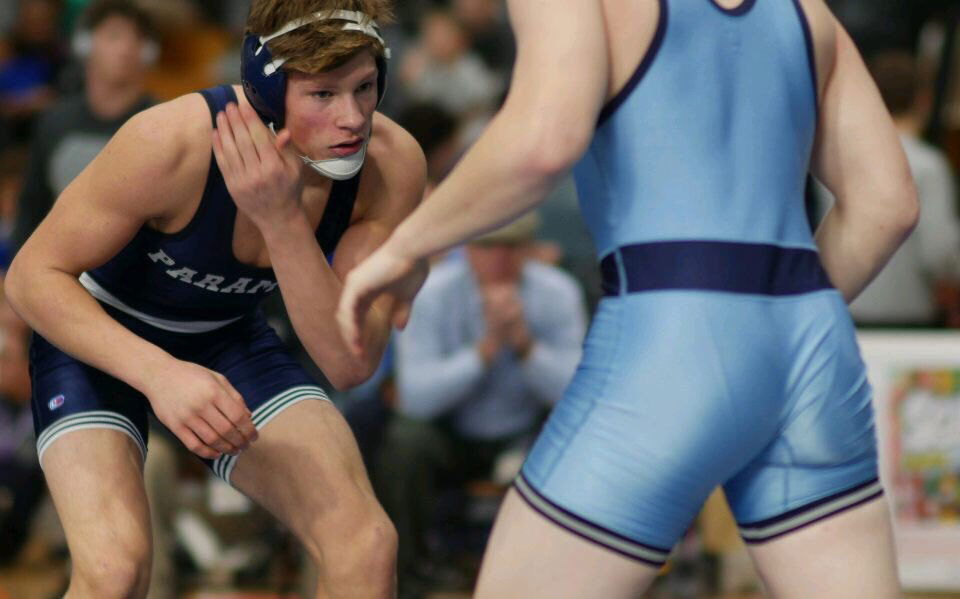 Jan. 9 Weight Class Rankings113-POUND RANKINGS 1-Anthony Clark, Delbarton, So. 2-Eddie Ventresca, Pope John, So. 3-Nick Babin, Emerson/Park Ridge, So. 4-Joey Olivieri, Hanover Park, Fr. 5- Brandon LaRue, High Point, Jr. 6-Enrique Sanchez, Bergen Catholic, Sr. 7-Kyle Kaiser, Paramus, Sr. 8-Quinn Melofchik, Belvidere, Jr.
2018 District 6 Wrestling Recap
Fair Lawn's Dylan Cedeno won by decision, 2-0, over Paramus' Kyle Kaiser in a 113-pound final bout which featured two returning state qualifiers from last season. Last year, Cedeno won the 106-pound District 6 title, while Kaiser entered this year's District tournament as the reigning 113-pound champ. ... Paramus continued its District 6 dominance at 160 as Kyle Jacob won by decision, 5-0, over Mount Olive's Vincent DeCarlo. For the past two years, Paramus' Kyle Cochran has been one of the best in the state at 160, winning the 2016 state title and finishing runnerup in 2017. ...
Paramus went 2-2 in the final bouts, with Aaron Ayzerov (120) and Jacob (160) both winning and Steven Ciambrone (106) and Kasier (113) falling in the final, while Thomas Casey and Matthew Tarabocchia both finished in third place to qualify for the Region tournament to give Paramus six wrestlers moving on.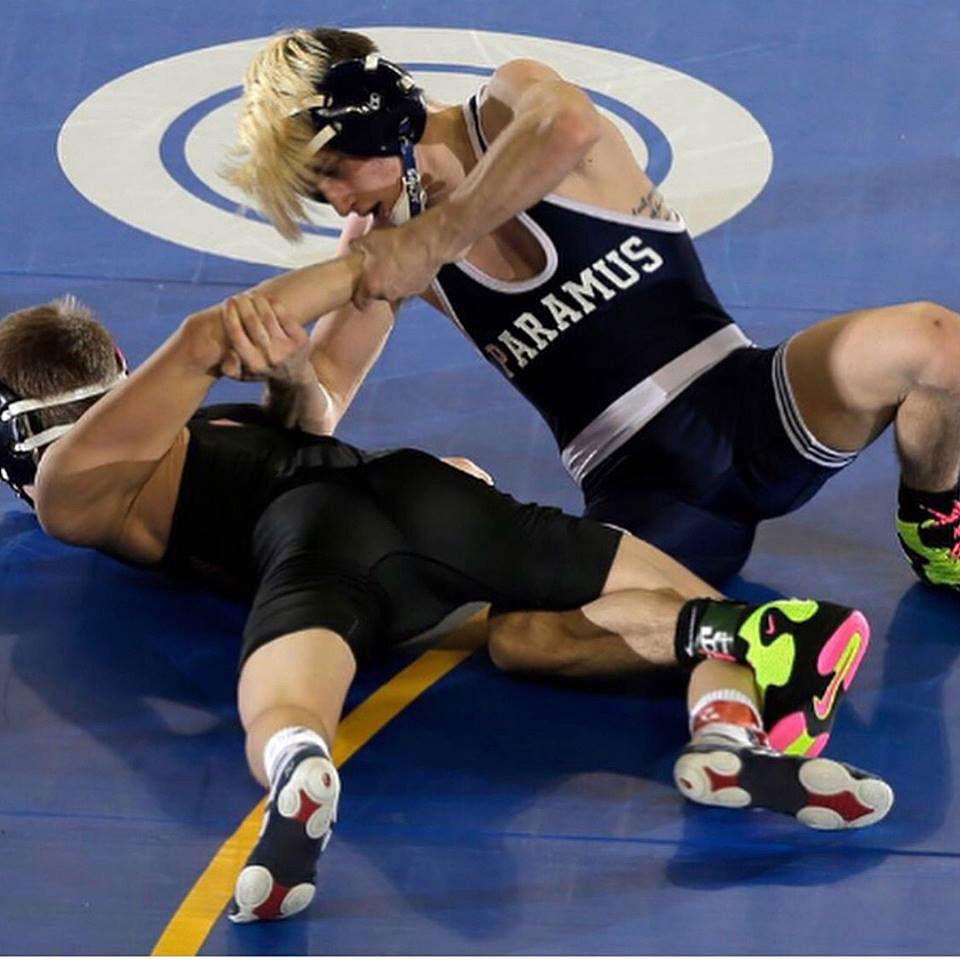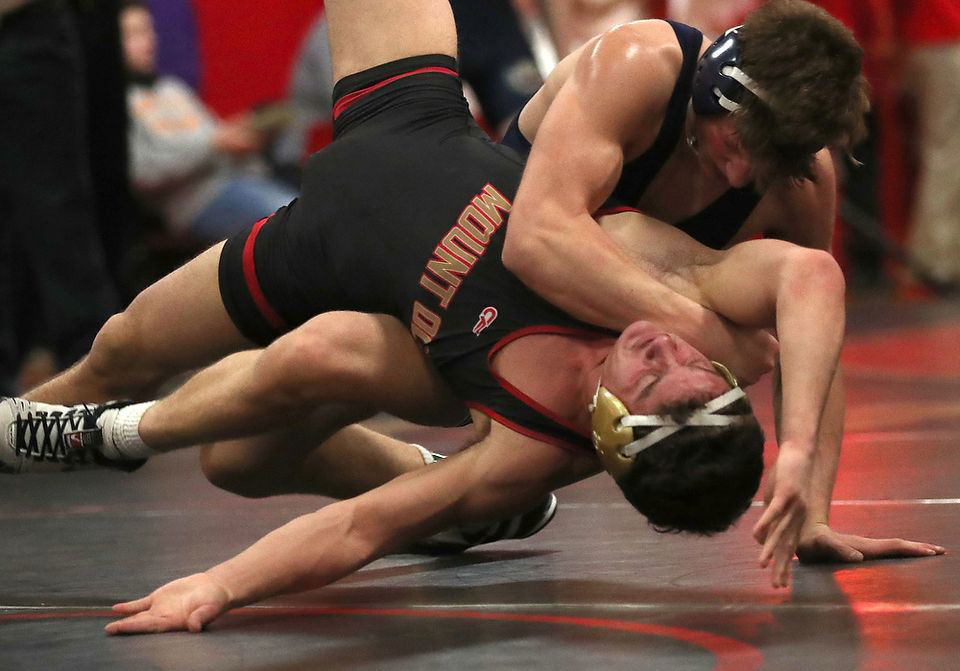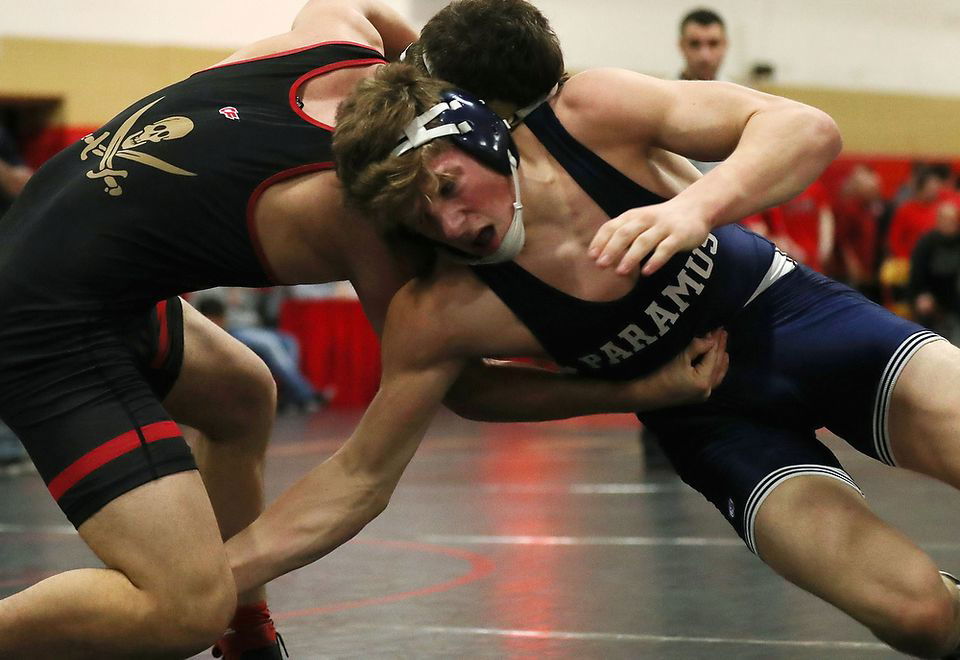 Region 2 Results
:
http://highschoolsports.nj.com/news/article/-4930053658654271488/2018-region-2-wrestling-homepage/
Kyle Kaiser, Senior, 113, 2nd Place, pictured below.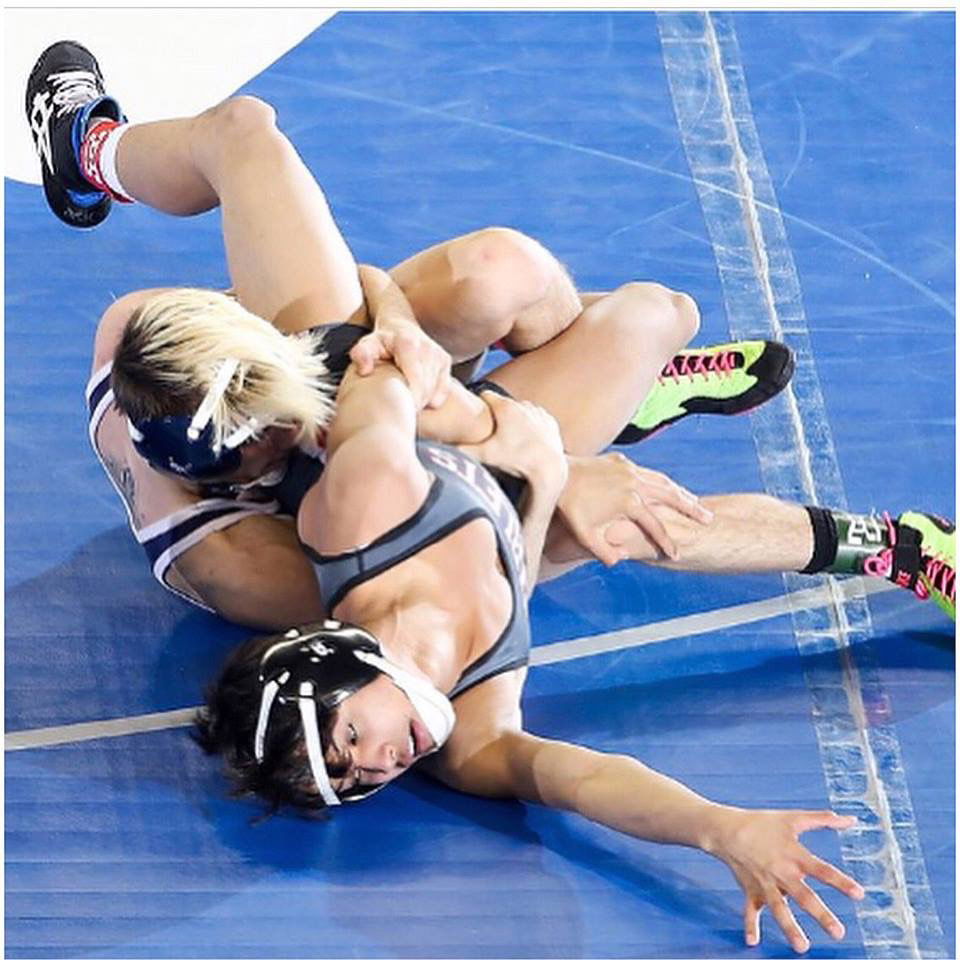 Kyle Jacob, Sophomore, 160, 3rd Place.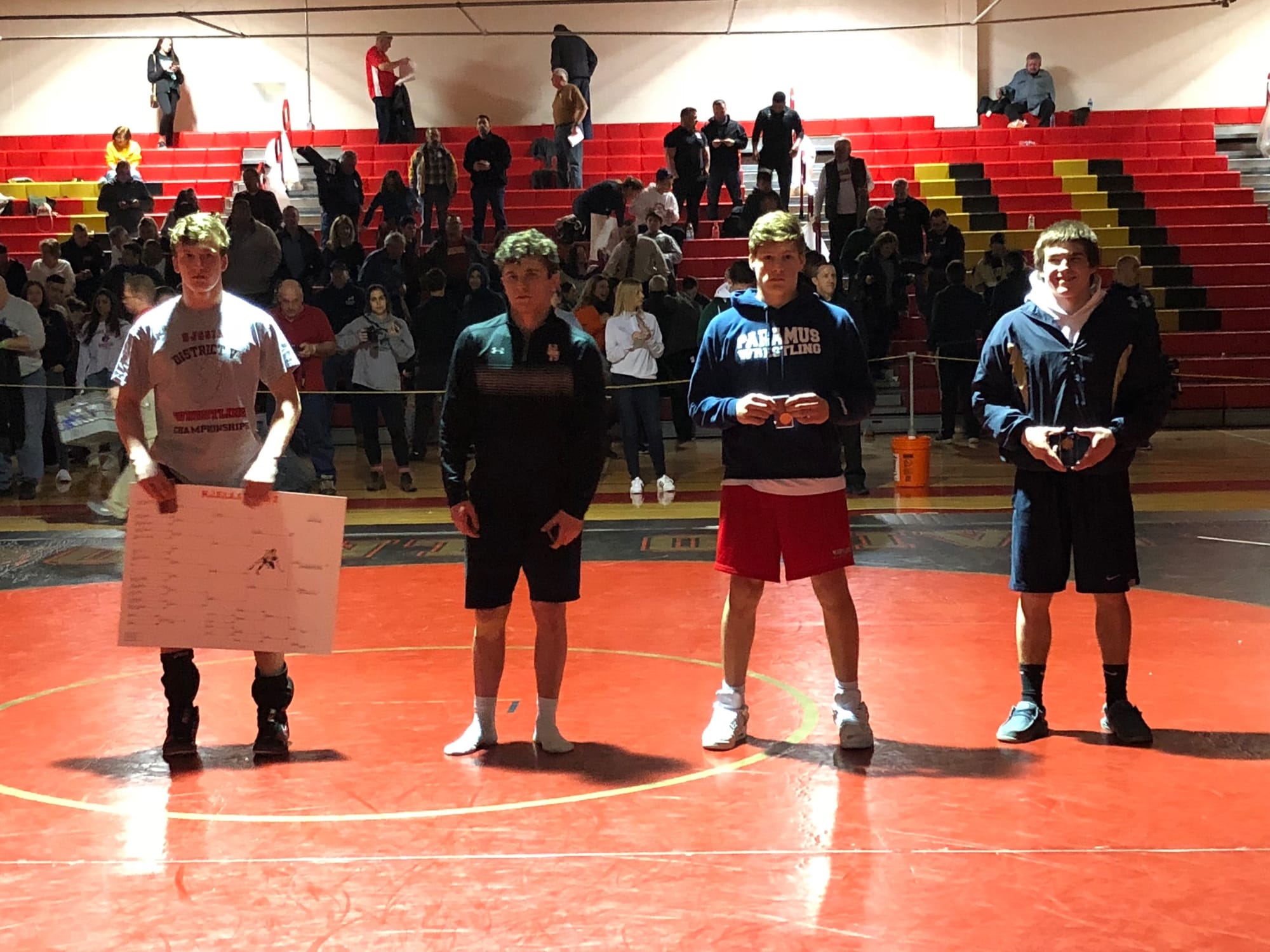 Aaron Ayzerov, Freshman, 120, 3rd Place.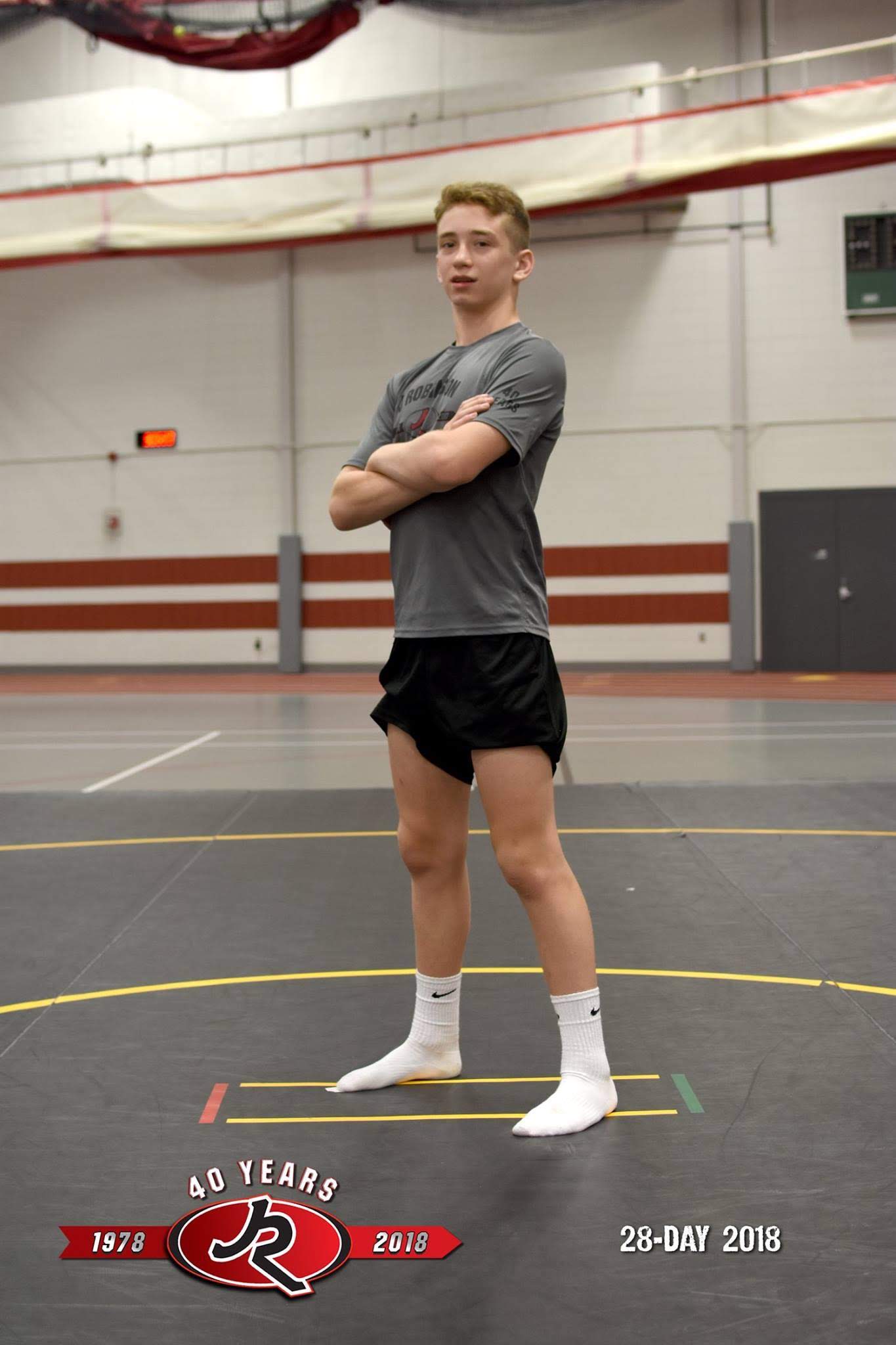 NJ wrestling: Paramus' Kyle Kaiser Stuns Fair Lawn's Dylan Cedeno in State Win
ATLANTIC CITY – The doubt set in as soon as he saw it.Kyle Kaiser felt his state championship dream slipping away even before taking the mat in Atlantic City. The Paramus senior took one look at the bracket and knew what he was going up against. Who he was was facing.And it wasn't good.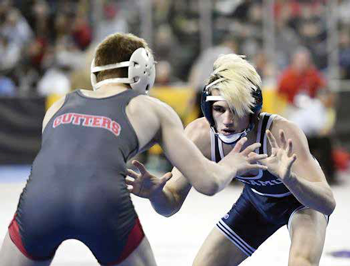 "Right away, doubt," Kaiser said. "I thought man, I can't get as far as I wanted to. I'm going to have to be wrestling back. That's honestly how I felt. But then I thought that it's my senior year and I've got to leave everything on the mat. That's what I did."Kaiser left with both hands in the air after shocking No. 5 seeded Dylan Cedeno of Fair Lawn in the second round of the state tournament. The Spartans' 113-pounder had gone 0-3 to Cedeno this season, including the district and region finals. But he tweaked his strategy and scored an early takedown in a 4-1 decision at Boardwalk Hall. He earned one of the biggest upsets of the day by handing Cedeno his first loss of the year. Next up is Kingsway's McKenzie Bell."It's total redemption," Kaiser said. "This is the only match that matters. This is what you're wrestling for. This one means the most. The other matches are nothing."
Kaiser is one of the most decorated wrestlers in Paramus history. He owns 133 career victories and will wrestle at Maryland next season. But Kaiser wasn't satisfied, not after taking silver at the Bergen County tournament and throughout the postseason. He worked on his conditioning and defense and focused on getting the first takedown. With 20 to 30 friends and family in attendance, he wanted to put on a show.
"We knew he could win," coach Chris Falato said. "Dylan is a great wrestler and he's had our number for the last few matches. But Kyle's a very stingy competitor. He's been in a lot of big matches and this is his third time down here. We were very confident that he would step up when it mattered the most as he just did. He got to his offense, and that's what he needed to do. We weren't able to get to [Cedeno's] legs the past few matches. We got to his legs and had a nice move to put him on his back to go up 4-0 and then was in to control the rest of the match." Kaiser has stood out since the start of his career.
He impressed coaches as a second grader on his first day at Paramus rec practice, only to be told he was too young. So Kaiser came back the next year and his career started to take off. This year, he's become the marquee wrestler at Paramus after sharing the spotlight with Kyle Cochran and Brian Bonino in recent years.
"Kyle is the clear-cut leader now instead of being with the three amigos," Falato said. "It's just Kyle and he's stepped up and done an amazing job this season, not only in wrestling but in leading the team. And he's turning into a great young man."
When Cochran won a state title in 2016, Kaiser was following from home. Kaiser was knocked out earlier in the tournament and his parents wanted to leave. So he watched on a computer screen when Paramus' last champion was crowned. He wants to be on the mat for the next one.
"[I visualize it] all the time," Kaiser said. "It would mean everything in the world to me to show what I can do."
Kyle Kaiser, Senior, 113, 5th Place in NJ STATE CHAMPIONSHIPS, pictured below: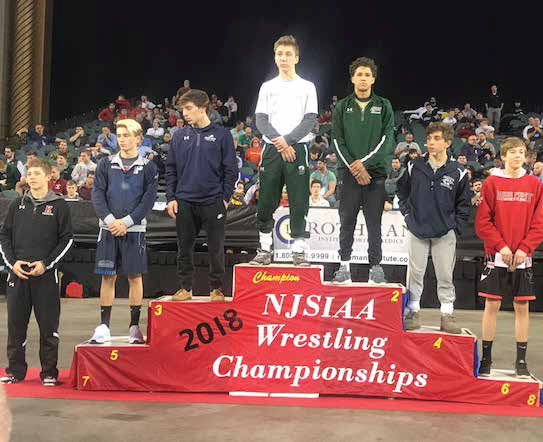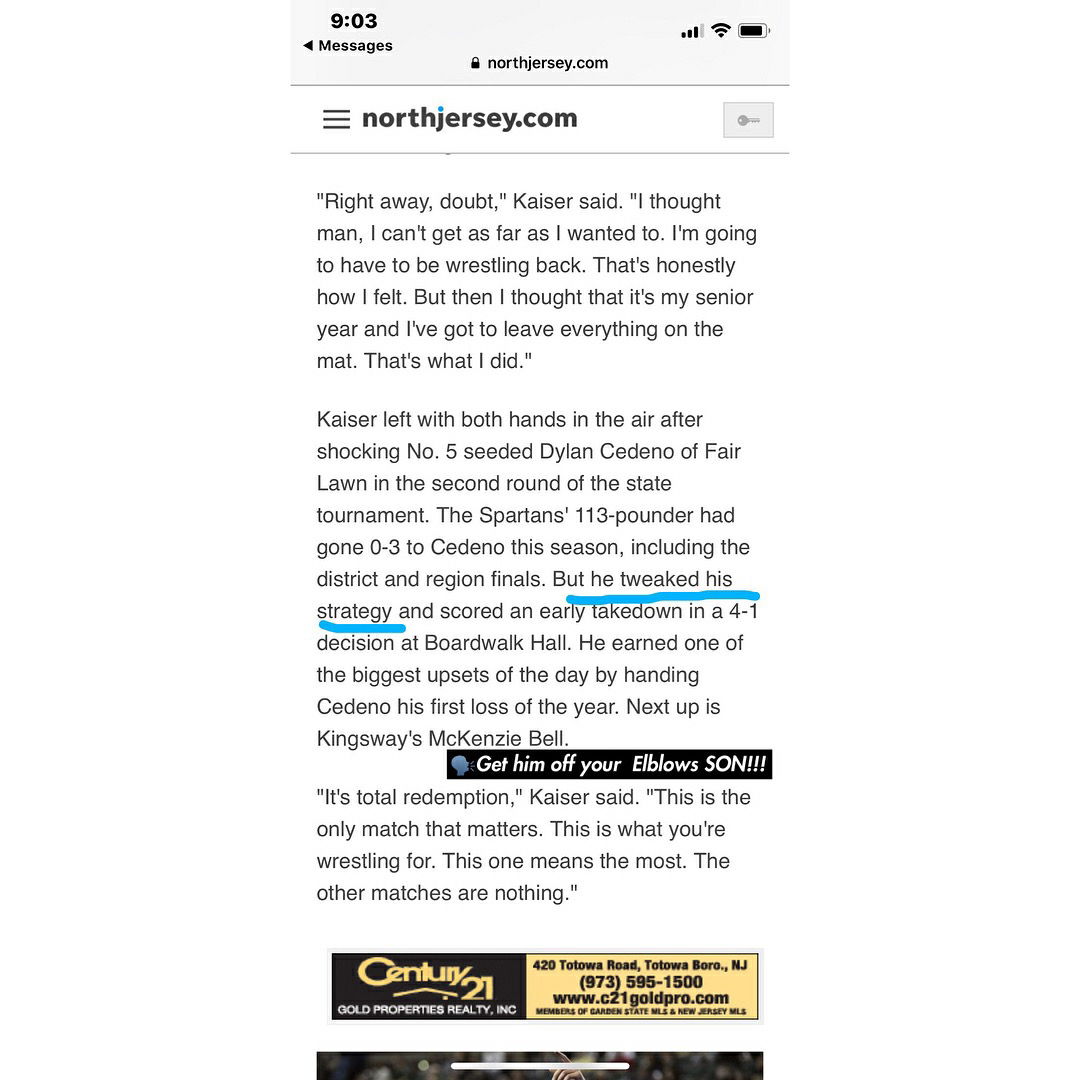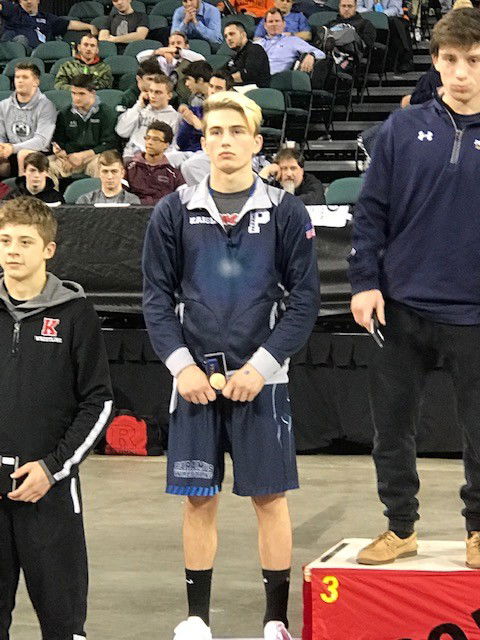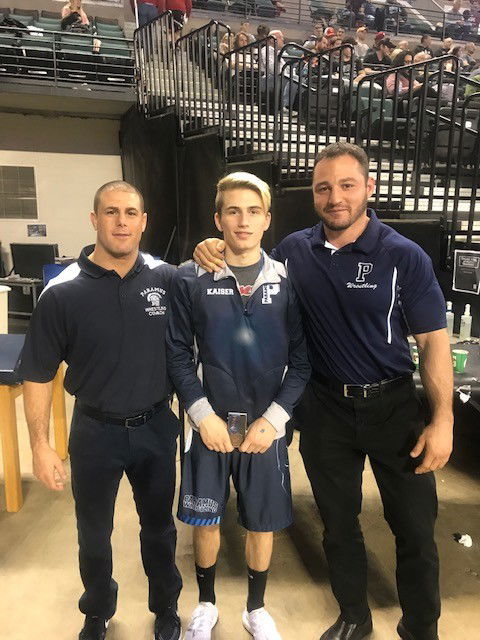 Kyle Jacob, Sophomore, 160, pictured below, picking up one of his two wins in AC
: