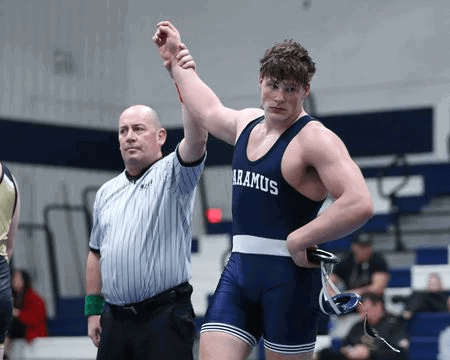 Paramus' Kyle Jacob
has his hand raised after defeating Paramus Catholic's Max Acciardi in the 220 pound match at Paramus High School on 2/7/20.Tom Horak | For NJ Advance Media
220 POUNDS: Our picks
1-Kyle Jacob, Paramus, Sr.
2-Max Acciardi, Paramus Catholic, Fr.
3-Remy Brancato, Bergen Catholic, So.
4-Danny Hasbani, Passaic Valley, Sr.
THE SKINNY:
One year after finishing runner-up in the state at 195 pounds,
Paramus senior Kyle Jacob
is the favorite to win his first state title at 220 this season. Jacob enters Region 2 with a 36-1 mark after claiming his third career District title. The state's top-ranked 220-pounder is still eyeing his first Region title after reaching last year's final for the first time before falling to Bergen Catholic's Jacob Cardenas in what served as a preview of the eventual state final. Jacob could meet Paramus Catholic freshman Max Acciardi, the No. 2 seed here, in the Region final. Those two met in a regular season dual meet earlier this year with Jacob winning by decision.
152 POUNDS: Our picks
1-Alex Strashinsky, Bergen Catholic, Sr.
2-Aaron Ayzerov, Paramus, Jr.
3-Dominick DeIntinis, Parsippany, Sr.
4-Brandon Teresa, Montville, Sr.
THE SKINNY:
This bracket features a strong top four in Bergen Catholic's Alex Strashinsky,
Paramus' Aaron Ayzerov
, Parsippany's Dominick DeIntinis and Montville's Brandon Teresa. Strashinsky, making his fourth Region appearance, is the top seed, and looking for his second straight Region title after winning the 138-pound title last year before finishing sixth in the state. He could meet Ayzerov in the final, with Ayzerov looking to punch his third career ticket to Atlantic City. These two met in last year's 138-pound final, with Strashinsky winning by fall in 21 seconds. A potential third-place match could be a rematch of this year's Morris County final between DeIntinis and Teresa, which DeIntinis won, 9-5. Teresa was a state qualifier last year at 138, while DeIntinis took fifth at 145.