State wrestling finals Tale of the Tape: Pairings & paths to the final round
https://www.nj.com/highschoolsports/2020/03/state-wrestling-finals-tale-of-the-tape-pairings-paths-to-the-final-round.html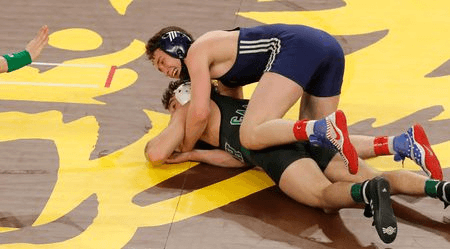 Aaron Ayzerov of Paramus hangs on to defeat Brandon Mooney of Camden Catholic in the UTB during a 152-pound semifinal bout of the NJSIAA State Wrestling Championships at Boardwalk Hall in Atlantic City, Friday, March 6, 2020.
Chris Faytok | NJ Advance Media for NJ.com
152-Boggiano shocks with "Spider" pin; Ayzerov earns upset UTB winBeating a top-seed in the state tournament with a defensive pin is pretty rare, to say the least.
Thanks to a move Toms River North fourth-seed Nick Boggiano calls "The Spider", the rare became reality in the semifinals of the 152-pound bracket of the NJSIAA/Rothman Orthopaedics State Wrestling Tournament at Boardwalk Hall in Atlantic City.
While Boggiano's win was impressive for its sudden, shocking conclusion, Aaron Ayzerov's victory was amazing for how long and hard fought it was.
To call the Paramus sixth-seed's 1-1 ultimate tie breaker win a marathon would be an understatement.
Read more about the 152-pound semifinals here.
152-pound final: Tale of the tape
4-Nick Boggiano, Toms River North (40-1) vs. 6-Aaron Ayzerov, Paramus (31-3)
Path to Finals
Boggiano: first round - 11-1 major decision over 29-Cole Velardi, Southern; pre quarterfinal - 6-0 decision over 13-Jared Schoppe, Delsea; quarterfinal - 5-0 decision over 5-Stefano Sgambellone, St. Joseph (Mont.); semifinal - fall in 2:48 over 1-Dylan Weaver, Lyndhurst/North Arlington
Ayzerov: first round - 8-4 decision over 27-Dominick DeIntinis, Parsippany; pre quarterfinal - fall in 1:45 over 11-Ian McCabe, Monroe; quarterfinal - fall in 4:19 over 3-Alex Strashinsky, Bergen Catholic; semifinal - 2-1 ultimate tiebreaker over 2-Brandon Mooney, Camden Catholic
Previous Places
Boggiano: 8th in 145 (2019)
Ayzerov: First AC appearance
History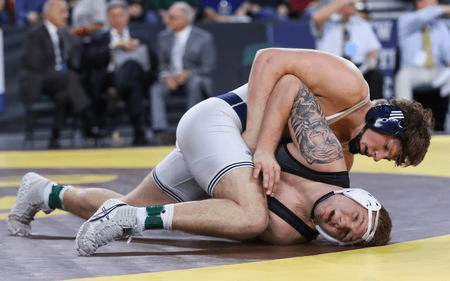 Kyle Jacob of Paramus (top) beat Zane Coles of Pitman in a 220-pound semifinal bout of the NJSIAA State Wrestling Championships at Boardwalk Hall in Atlantic City, Friday, March 6, 2020.Andrew Mills | NJ Advance Media for NJ.com
220-Jacob yet to surrender a point with Casale on deck in finals
It will be a battle of North Jersey standouts in the NJSIAA/Rothman Orthopaedics State Wrestling Individual Championships 220-pound title at Boardwalk Hall in Atlantic City.
Top-seeded Paramus senior Kyle Jacob and Delbarton second-seeded sophomore P.J. Casale are set to meet in Saturday's finale, which will be the second-to-last bout of the weekend and a fitting ending for the top two grapplers in the bracket. It also could spell an unprecedented achievement for Jacob, who has yet to allow a point in his four bouts.
Reade more about the 220-pound semifinals here.
220-pound final: Tale of the tape
1-Kyle Jacob, Paramus (43-1) vs. 2-P.J. Casale, Delbarton (41-3)
Path to Finals
Jacob: first round - fall in 0:56 over 32-Michael Carey, Haddonfield; pre quarterfinal - fall in 2:16 over 17-Michael Pavlinetz, Holmdel; quarterfinal - 5-0 decision over 8-Robert Damerjian, Moorestown; semifinal - 9-0 decision over 4-Zane Coles, Pitman
Casale: first round - technical fall in 2:07 over 31-Jonas Hyman, Ramsey; pre quarterfinal - technical fall in 4:20 over 15-Tracey Taylor, Long Branch; quarterfinal - technical fall in 4:26 over 7-Jackson Crawn, Kittatinny; semifinal - 9-2 decision over 6-Michael Toranzo, St. Joseph (Mont.)
Previous Places
Jacob: 2nd in 195 (2019)
Casale: 5th in 220 (2019)
History