https://www.northjersey.com/story/sports/high-school/wrestling/2020/02/10/wrestling-athletes-committed-college-other-sports-keep-going/4677910002/
'I love the sport.' Why athletes committed to college in other sports keep wrestling
Sean Farrell, NorthJersey.comPublished 5:01 a.m. ET Feb. 10, 2020 | Updated 9:22 a.m. ET Feb. 10, 2020
One of the most well-known crossovers is Paramus senior Kyle Jacob. The 220-pounder received interest from Big Ten wrestling schools including Rutgers and Maryland, but chose to sign with Fordham for football. He's one of eight nationally-ranked wrestlers committed to college for another sport.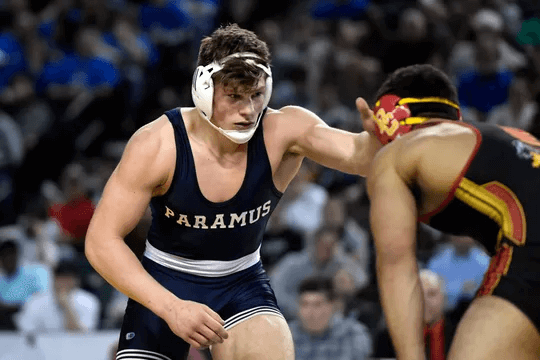 Kyle Jacob of Paramus wrestled in the 195-pound final at the 2019 NJSIAA wrestling tournament. (Photo: Danielle Parhizkaran/NorthJersey.com)
"I think he could be an amazing heavyweight wrestler," Paramus wrestling coach Chris Falato said. "I can't imagine there are many other kids who focus on another sport and still succeed in this sport to the level that Kyle has."
Jacob is ranked No. 1 in the state and No. 11 in the country, despite wrestling a total of three times this past summer. He never allowed a point in the Bergen County tournament and accepted his gold medal while wearing a white football sweatshirt. The senior expects his work on the mat will come in handy next year, as a safety or lineman.
"Wrestling, honestly, throughout my whole life has helped me with football with tackling," Jacob said. "It made me more aggressive and made me a better player. I just love the sport."
The college perspective