NJ wrestling: Paramus' Kyle Kaiser Stuns Fair Lawn's Dylan Cedeno in State WinATLANTIC CITY – The doubt set in as soon as he saw it.Kyle Kaiser felt his state championship dream slipping away even before taking the mat in Atlantic City. The Paramus senior took one look at the bracket and knew what he was going up against. Who he was was facing.
And it wasn't good.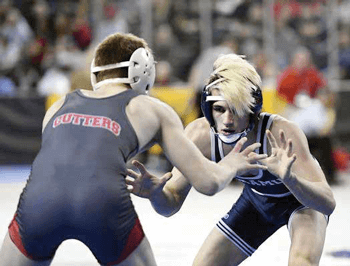 "Right away, doubt," Kaiser said. "I thought man, I can't get as far as I wanted to. I'm going to have to be wrestling back. That's honestly how I felt. But then I thought that it's my senior year and I've got to leave everything on the mat. That's what I did."Kaiser left with both hands in the air after shocking No. 5 seeded Dylan Cedeno of Fair Lawn in the second round of the state tournament. The Spartans' 113-pounder had gone 0-3 to Cedeno this season, including the district and region finals. But he tweaked his strategy and scored an early takedown in a 4-1 decision at Boardwalk Hall. He earned one of the biggest upsets of the day by handing Cedeno his first loss of the year. Next up is Kingsway's McKenzie Bell."It's total redemption," Kaiser said. "This is the only match that matters. This is what you're wrestling for. This one means the most. The other matches are nothing."Kaiser is one of the most decorated wrestlers in Paramus history. He owns 133 career victories and will wrestle at Maryland next season. But Kaiser wasn't satisfied, not after taking silver at the Bergen County tournament and throughout the postseason. He worked on his conditioning and defense and focused on getting the first takedown. With 20 to 30 friends and family in attendance, he wanted to put on a show."We knew he could win," coach Chris Falato said. "Dylan is a great wrestler and he's had our number for the last few matches. But Kyle's a very stingy competitor. He's been in a lot of big matches and this is his third time down here. We were very confident that he would step up when it mattered the most as he just did. He got to his offense, and that's what he needed to do. We weren't able to get to [Cedeno's] legs the past few matches. We got to his legs and had a nice move to put him on his back to go up 4-0 and then was in to control the rest of the match." Kaiser has stood out since the start of his career.
He impressed coaches as a secondgrader on his first day at Paramus rec practice, only to be told he was too young. So Kaiser came back the next year and his career started to take off. This year, he's become the marquee wrestler at Paramus after sharing the spotlight with Kyle Cochran and Brian Bonino in recent years.
"Kyle is the clear-cut leader now instead of being with the three amigos," Falato said. "It's just Kyle and he's stepped up and done an amazing job this season, not only in wrestling but in leading the team. And he's turning into a great young man."
When Cochran won a state title in 2016, Kaiser was following from home. Kaiser was knocked out earlier in the tournament and his parents wanted to leave. So he watched on a computer screen when Paramus' last champion was crowned. He wants to be on the mat for the next one.
"[I visualize it] all the time," Kaiser said. "It would mean everything in the world to me to show what I can do."