https://www.northjersey.com/story/sports/high-school/wrestling/2020/02/10/paramus-nj-wrestling-avenges-early-season-loss-advances-state-tournament/4677986002/
How Paramus wrestling improves with Aaron Ayzerov's return
Sean Farrell, NorthJersey.comPublished 7:16 p.m. ET Feb. 10, 2020 | Updated 11:59 p.m. ET Feb. 10, 2020
HILLSDALE – When it first happened, Aaron Ayzerov knew it was bad.
The Paramus wrestler felt a snap in his leg and the pain overwhelmed him on the mat. He tore his right meniscus in December and it threatened to end his season just days after it began. It was a crushing blow for a Spartan team with state title ambitions.
"We were very concerned," coach Chris Falato said. "We thought we were going to lose him for the year."
Ayzerov managed to save his season and keep the Spartans alive for at least another round. The 152-pounder chose the quicker route back and was rewarded again on Monday night. His pin in the opening match helped the Spartans roll to a 43-27 win over Pascack Valley in the North 1, Group 3 quarterfinals.
"Aaron brings energy back to the room," Falato said. "He's the unquestioned leader of the team and having him on the bench is huge for us. It's not just his physical ability to win wrestling matches."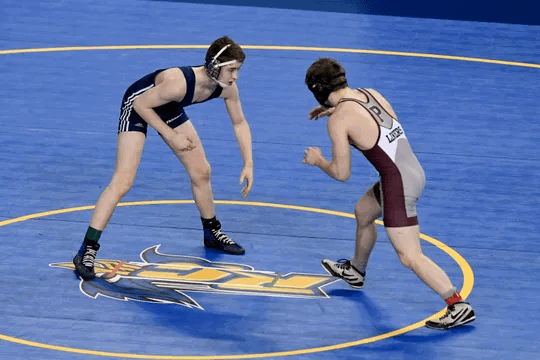 A
aron Ayzerov of Paramus, left, faces Kyle Tino of Phillipsburg in a 138-pound wrestle-back match on Day 2 of the NJSIAA state wrestling tournament on Friday, March 1, 2019, in Atlantic City. (Photo: Danielle Parhizkaran/NorthJersey.com)
Paramus is a different team with Ayzerov back and this match showed its potential. The Spartans lost to the Indians by nine points in the regular season, but that came without three starters: Daniel Casey (elbow), Eric Freeman (concussion) and Ayzerov.
All three Spartans returned for the rematch and each factored into the victory. Casey saved bonus points in the 285-pound bout and the others both pinned their opponent.
Paramus also received pins from Daniel Hong (106), Anthony Egbert (113), Brandon Myack (160) and Kyle Jacob (220).
"I want to wrestle," said Ayzerov, whose team will face defending-champion Montville. "I did everything to get back as fast as I could."
SCOREBOARD: Wrestling scores from state quarterfinal duals across New Jersey
Ayzerov came into the season with high expectations after qualifying for the state championships as a sophomore. He was dealing with a minor meniscus injury at the Beast of the East, but that didn't keep him from reaching the blood round. His fate suddenly changed in the third period of a 3-3 match when the injury went from bad to worse.
Doctors told him he could either get a full repair on the meniscus or try a less invasive surgery with a shorter recovery time.
"Aaron chose instead of repairing the meniscus to get it taken out," Falato said. "It basically guarantees that he'll have arthritis when he gets older, but he doesn't care. He wants to wrestle because wrestling is his life. He gives everything into wrestling."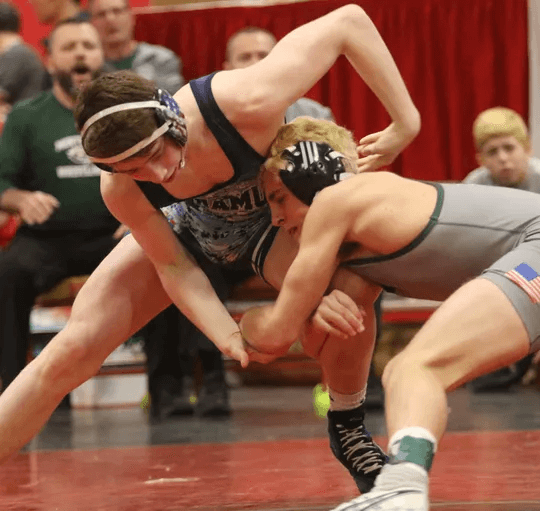 Aaron Ayzerov of Paramus wins a decision over Brandon Teresa of Montville in the 138 lb. semi final match at the Region 2 wrestling tournament at Mt. Olive HS on February 23, 2019. (Photo: Chris Pedota, NorthJersey.com-USA Today Network)
Within a month, Ayzerov went from crutches to the starting lineup. He returned more than two weeks ahead of schedule and now hopes to put Paramus on the state podium for the 10th straight season. No other public school in North Jersey has a streak of more than three years.
"I feel it in the practice room every day," Freeman said. "He pushes me to the limit and helps me get better. It's good to have a guy like him on the team. He's a really good role model to me and to the rest of the team."
Ayzerov said he is excited to go up against Montville after facing them every year in youth wrestling. The Spartans almost had that opportunity in last year's sectional championship, but were knocked out a round early on criteria.
"We really wanted Montville last year," Falato said. "We matched up well with them."
"All the kids coming back from that team last year were just angry," Ayzerov said. "We took that over the summer and trained hard. That was what we were thinking about and talking about on the bus. We're not letting that happen again."