https://www.northjersey.com/story/sports/high-school/wrestling/2020/01/07/nj-wrestling-best-2019-20-season-north-jersey/2680094001/
Wrestling: Paramus senior and Divison I football commit reaches 100 wins
Sean Farrell, NorthJersey.comPublished 5:12 p.m. ET Jan. 7, 2020 | Updated 3:47 p.m. ET Jan. 22, 2020
Kyle Jacob has tackled another one of his biggest goals.
The Paramus senior and star safety hit the 100-win mark on Friday night – even while taking the road less traveled to get there.
Jacob is a returning state finalist and one of the nation's best wrestlers at 220 pounds, but he's dedicated most of his time to football. It's hard to tell that he wrestled just three times this past summer.
"I had a lot of accomplishments (on my mind) coming into the season: winning the districts, regions, states, counties and definitely getting my 100th win," said Jacob, a Fordham football commit. "It definitely means a lot to me."
If Jacob is not the most dominant wrestler in the state right now, he's at least in the conversation. He rolled through the Bergen County Tournament this season without giving up a point and hasn't been scored on in over a month.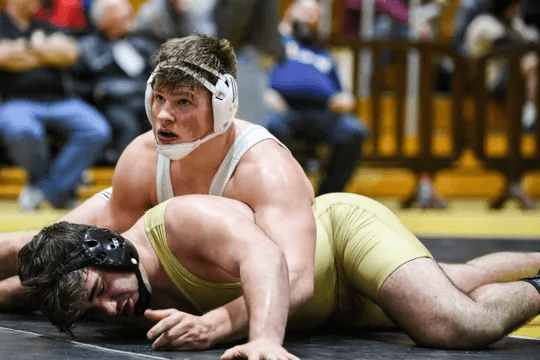 The BCCA Holiday Wrestling Tournament at Hackensack High School on Saturday December 28, 2019. Kyle Jacob of Paramus High School beat Mike Toranzo of St. Joseph in the 220 lb. match to become the champion. (Photo: Anne-Marie Caruso/NorthJersey.com)Jacob missed some time a year ago with scar tissue in his right knee, but nothing is slowing him down this winter. He's put together a 20-1 record as a senior, which includes 13 pins and a win over the state's No. 3 heavyweight."I feel a lot better," Jacob said. "I feel more confident. I feel stronger, bigger and faster."
Jacob put it all together last season with a run to the state finals at 195 pounds and now ranks 11th at his weight on InterMat. Eight of the ten wrestlers above him are committed to Division I wrestling schools and the other two are uncommitted.
"He's probably the most physically gifted wrestler that we've ever had," Paramus coach Chris Falato said. "The fact that he doesn't have to focus that much on wrestling and still has the success that he has is a tribute to the outstanding athlete that he is."
While other wrestlers came into the season refreshed and ready to go, Jacob had about a week to recuperate between seasons. He paid the price as the Spartans' all-time leading rusher and took a few days off before resuming his lifting program.
Jacob said it took some time to get back in the swing of things on the mat, but his opponents might disagree.
"I had to wrestle him so I know," Falato said. "He's obviously gotten better, but he didn't feel rusty to me. He gets better every day."